Florida continues to defy earlier dire predictions of doom and gloom for the real estate industry. Just six months ago, the forecast was portrayed as grim. However, the pairing of historically low interest rates with a continued shortage of available homes has triggered a housing demand beyond all expectations.
What this means for home prices
When demand is high and inventory is low, prices remain stable or even begin to rise. In fact, data pulled from the Heartland Association of Realtors shows our local market has been in an upward trend throughout all of 2020. And Highlands County home prices continue to rise.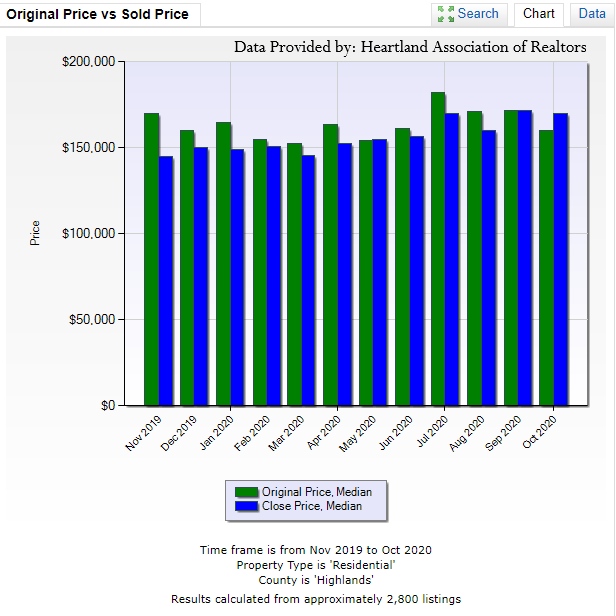 The above graph portrays the original listing versus final sales prices over the past twelve months. In September 2020, houses were selling at full original asking price. Now, as we move further into the month of October, we see the final sales price is often even above the listing price.
Why are sales prices so high?
In short: supply and demand. Home buyers are eager to buy, but homeowners are hesitant to sell. Low interest rates can mean huge savings on the life of a 30-year mortgage loan, spurring buyers to secure their dream home now.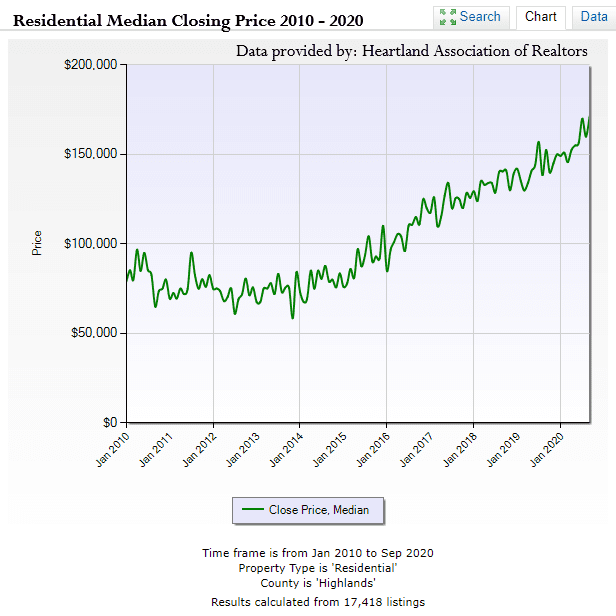 Despite the demand for quality homes, many current homeowners hesitate to sell for several reasons:
They're not sure where to move to when they sell their current home. After all, the housing market is extremely competitive right now.

 

What if I can't find the right home to move to?
COVID-19 leaves many homeowners concerned with the health risks associated with strangers constantly visiting their home.

 

Is there a way to reduce foot traffic in my home?
The hassle of showing an owner occupied home can seem daunting and troublesome.

 

Selling the home I'm still living in can be a serious pain!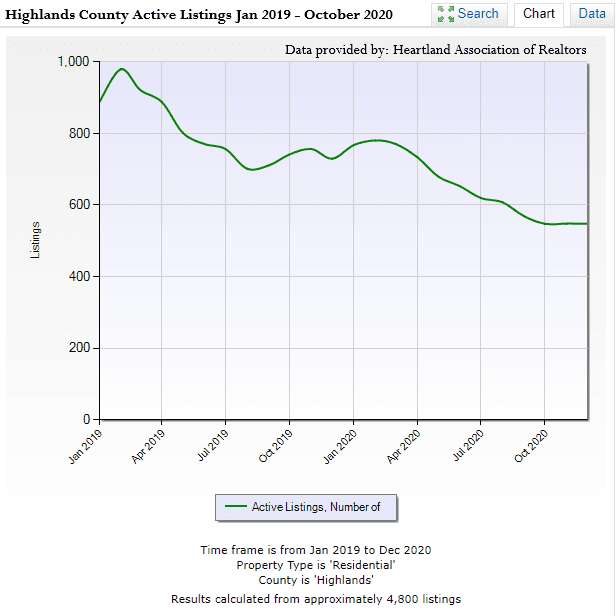 How to take advantage of increased home values in Highlands County:
The number of homes for sale on the open market has dramatically decreased year-to-date. If you've considered selling but have reservations about doing so, you're not alone. But there are methods The Hammock Falls Team can use to help overcome those obstacles. Modern technologies combined with the use of target marketing strategies are key to both selling your current property and helping you locate your next home.
Would you sell your current home if you could find the perfect home to move to?

 

Ask about our "Dream Home Finder" program.
By using

 

3D home tours, in-person visitors are kept to a minimum.
We utilize target marketing to

 

get your home in front of the buyers most qualified and most likely to purchase your home, reducing the amount of time your home will be on the market.
Don't want to list your home on the open market?

 

Ask how we can locate a buyer for your home without having to list your house.
Want to find out more about our programs?
Contact The Hammock Falls Team for a free, no obligation consultation to find out how you can net the most from the sale of your current home while efficiently locating your next home. Our listing expert, Lazaro Martinez, is ready to discuss the best strategies available to make your next housing transaction as hassle-free as possible.
[Graphic data provided by: The Heartland Association of Realtors]